I've joined a really cool reading challenge this month called "
September is for Sequels
". It's being hosted by
Lisa of Lisa Loves Literature
.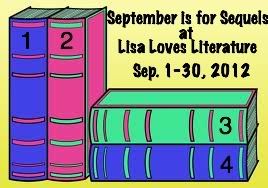 Objective:
To read and review a minimum of 4 sequels between the dates of September 1st and 30th, 2012.
Rules:
It would be good if you had a blog to post reviews, or you can be a Goodreads Member and post your reviews on the site.
The book must be a sequel - it can be any # in the series, just not the first book. Prequels can count if they came out AFTER the first one in the series. You can do e-books, even ARCs or e-galleys, as well as good old fashioned books. And, I'll even let you count the little 1.5 novellas that are often published as e-books only.
The deadline to sign up and participate is September 15th.
You must post on your blog an entry that has a list of the sequels you're planning to read, but it doesn't have to be complete, or you could even just post your goal, do you plan to read 8, or more? You can always go back as the month proceeds and enter the books as you read and review them.
My goal is to read 4 sequels:
1. How to Romance a Rake by Manda Collins (Book 2 of her Ugly Ducklings series)
2. A Night Like This by Julia Quinn (Book 2 of her Smythe-Smith Quartet)
3. Sweet Deception by Heather Snow (Book 2 of her Veiled Seduction series)
4. Lessons from a Scandalous Bride by Sophie Jordan (Book 2 of her Forgotten Princesses series)
...
In case I have more time, I have 2 more sequels on standby:
5. Too Tempting to Resist by Cara Elliott (Book 2 of her Lords of Midnight series)
6. Forever a Lady by Delilah Marvelle (Book 2 of her Rumor series)
Very excited! ^_^