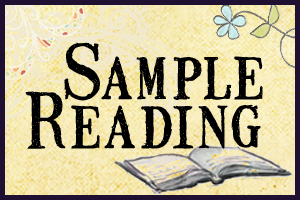 This is a new feature on my blog called
Sample Reading
. This is where I will talk about book samples that I've gotten online. I'll read the sample and will answer the very important question:
Will I buy it?
I had the pleasure to host Danelle Harmon when she recently went on a blog tour for her The De Montforte Brothers series e-release. I really enjoyed reading the first book and have been planning to look into the rest of the series, which Danelle is editing and re-releasing in e-book format. (
Read my review of The Wild One here
.)
The Beloved One is the second book in the series.
The Blurb:
Wounded in battle, Englishman Charles de Montforte has awakened to find himself in the tender care of a sensuous, sloe-eyed local miss, whose beauty would be a joy he would treasure always... if only their paths had crossed in some other place and time. Charles' heart is profoundly moved by Amy Leighton's desperate plight, and her curvaceous dark loveliness and gentle, healing touch are enflaming his desires. But the noble British lord is already taken, though Amy soon lures him away from past loyalties to Crown and fiancée with a golden, rapturous promise of love happily forever after.
Amy has long prayed for someone special to enter her life -- someone who would take her far away from the daily drudgery imposed upon her by a cruel, unloving step-family. Now fate has brought her the strong yet gentle man of her dreams; but the handsome stranger is from an enemy land... and he's sworn to love another.
- from
Danelle Harmon's website
I got the sample from:
Amazon, Kindle
# of Pages:
Prologue and first 3 Chapters of a 384-page novel
My Impressions:
A bit of Charles's story was already hinted at in the first book. His family has thought he was dead for over a year -- and this is the story of what happened to him.
Charles is a soldier stationed in Boston. During a mission, he and his men are ambushed and he falls from his horse and is presumed dead.
A young Will Leighton was in that group that ambushed Charles -- and, for some strange reason, Charles decides not to shoot him -- but this action nearly costs Charles his life.
Dragged across Boston, Charles wakes up after a trepanning (O_O) blind and in the care of the Leightons. The responsibility of his care falls to Amy, the next eldest to Will and the Cinderella of her family. She's kind-hearted and generous and her older siblings depend on her for everything.
When she first sees a bloody and unconscious Charles, she is captivated by his handsomeness -- and his neatness.
... No farmer she'd ever met had hands that looked like that. Long, elegant fingers. Clean skin devoid of dirt and scars. Short, well-scrubbed nails that were filed smooth and obviously well cared for.
- loc 237
What is interesting about this story is that Charles is supposed to be the perfect, beloved one of his family -- and now he finds himself in an
im
perfect and less-than-ideal situation. How will he recover his eyesight? How will he survive? A redcoat living amidst the rebels? How does he get back to England?
There is also the matter of his fiance and daughter (we find out their story in the first book) -- but I am curious about how Charles will struggle between his love for her and (I assume) his attraction to Amy.
Price:
$3.99 (for International?)
Will I buy it?
I want to finish reading this! I want to find out how this ends!
* * *
Free E-book from Danelle Harmon!
The Wild One
, the first book in The De Montforte Brothers series, is currently
FREE
on Kindle
and
Smashwords
.
It is $0.99 for the
Nook
.
(
This information is accurate as of time of publishing, September 9
.)
Enjoy! ^_^