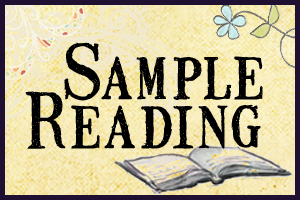 This is a new feature on my blog called
Sample Reading
. This is where I will talk about book samples that I've gotten online. I'll read the sample and will answer the very important question:
Will I buy it?
I actually had a different sample planned for the week but, when I read
The HR Critic's review of The Defiant Governess by Andrea Pickens
(who also writes as Cara Elliott), I decided to check it out -- and discovered that the author also writes historical mysteries as Andrea Penrose. So off to Amazon I went and got samples of the first two books in the series.
The Blurb:
England, 1813: Lady Arianna Hadley's desire to discover her disgraced father's murderer has brought her back to London from exile in the Caribbean. Masquerading as a male chef, she is working in one of London's aristocratic households in order to get close to her main suspect. But when the Prince Regent is taken ill after consuming Arianna's special chocolate dessert, she unexpectedly finds herself at the center of a dangerous scandal.

Because of his expertise in chocolate, the eccentric Earl of Saybrook, a former military intelligence officer, is asked by the top brass at Horse Guards to investigate the suspected poisoning. But during his first interrogation of Arianna, someone tries to assassinate both of them, and it quickly becomes clear that something very sinister is afoot within the highest circles of government. They each have very different reasons for wanting to uncover the truth, yet to have any chance of doing so they must become allies.

Trust. Treachery. Arianna must assume yet another identity as their search takes them from the glittering ballrooms of Mayfair to the slums of St. Giles. And their reluctant alliance is tested in more ways that one as it becomes clear that someone is looking to plunge England into chaos . . .
- from Andrea Penrose's website
I got the sample from:
Amazon, Kindle
# of Pages:
First 3 Chapters of a 336-page novel
My Impressions:
Many of the romances I've read this year often have a mix of mystery and intrigue incorporated in the story. In those stories, the romance takes center stage and the mystery serves to move the story (and the relationship of the characters) forward -- but these books written by Andrea Penrose very clearly state that they are
historical mysteries
, which leads me to believe that the
whodunnit
is the primary focus of the story.
And what a mystery it is! Andrea Penrose decides to implicate her heroine in the attempted poisoning of the Prince Regent! But was it really poisoning or merely an adverse reaction to a new food?
Now, here's what makes this interesting: the heroine has been working as the chef (a male chef!) in that household. And it is his creation that caused the Prince Regent's collapse. I'm so curious about how Arianna will unmask herself (or will she be unmasked?) and how she will clear her name.
The hero, Alessandro, Lord Saybrook, is also a very interesting man. He's half-Spanish and has matchless knowledge of chocolate. (He also used to work for the Intelligence Office before he was injured.)
The author also begins each chapter with a chocolate-based recipe. (And this is my one nitpick: the recipes are supposed to come from the chocolate notebooks of Dona Maria Castellano and I was expecting to read recipes appropriate to that historical period, but the recipes mention "refrigerate" and "immersion blender" and those felt a bit jarring. Still, I love the inclusion of recipes. (One of my favorite books was
Like Water for Chocolate
by Laura Esquivel.) I think it adds to the overall atmosphere of the book.
Price:
$6.99 for paperback. The book is also available in e-format.
Will I buy it?
... I really should stop looking through samples. I still have a pile of books that I promised myself I'd finish reading before buying any new ones.
But this one is so interesting! I also read the sample for her second book,
The Cocoa Conspiracy
.
I actually love the premise of this book more than the first one. It involves a rare book on cocoa and, from what I've read in the sample, the book contains very important information that men will kill for in order to get.
This story seems to have shades of
National Treasure: Book of Secrets
and I'm excited to read about Lady Arianna's second adventure.
The third book in the series,
Recipe for Treason
, will be published December 2012.
Andrea Penrose
is a pen name used by Andrea DaRif, who also writes as
Andrea Pickens
(traditional regencies) and as
Cara Elliott
(historical romance).