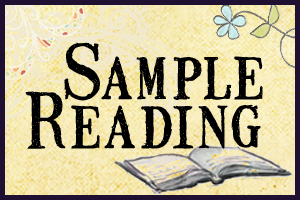 This is a new feature on my blog called
Sample Reading
. This is where I will talk about book samples that I've gotten online. I'll read the sample and will answer the very important question:
Will I buy it?
Crista McHugh is a new-to-me author and I discovered her through
The Season for Romance blog
. I decided to check out her body of work and discovered she had written one historical romance novella set in New York.
The Blurb:
New York, 1866

When her mistress receives an utterly unromantic letter from a potential suitor, servant Susanna Parkwell is asked to craft an appropriate response. Though hesitant to take part in the deception, Susanna agrees, never dreaming the scorned suitor will write back.

Theodore Blakely abhors being pressured by his family to marry, but he's intrigued by the witty refusal he receives from "Charlotte". After exchanging more letters, Ted believes he's found a soul mate in his thoughtful and understanding correspondent, and asks permission to formally court her.

Though racked with guilt over her lies, Susanna can't resist the opportunity to meet Ted in person. So she poses as Charlotte at a holiday ball, where she vows to tell him the truth. But when the clock strikes midnight, will Susanna have the courage to reveal her identity and risk losing the man she loves?
- from Crista McHugh's website
I got the sample from:
Amazon, Kindle
# of Pages:
Less than 1 chapter (4 pages) of a 65-page story
*
I also read an excerpt from Crista McHugh's website
My Impressions:
I'm a fan of anything epistolary so I found the premise of this story to be interesting.
I also loved the setting: a boarding house which houses mostly students from Vassar (
a women's college back in 1866
).
I wish the sample on Amazon was longer. Being only four pages, there really wasn't much to judge on. I was a little confused when the story begins with Susanna and (a really bratty) Annabelle because, based on the summary, Susanna pretends to be a "Charlotte" -- I'm glad I found more information in Crista McHugh's excerpt: Charlotte is another student staying at Susanna's aunt's boardinghouse. She is the one being courted by Theodore and her mother has threatened to pull her out of school if she does not entertain Theodore's letters.
The letters Susanna and Theodore wrote, which Crista shared in the
excerpt found on her website
really did a lot to flesh out Susanna's character. But it left me with some questions: How did Susanna get so witty and so literate? We know her brother is the bar exam away from becoming a lawyer -- but, what about Susanna?
I wish the author had provided a glimpse of Theodore Blakely. Is he a much older gentleman? Is he in a university somewhere else?
Price:
$2.99
Will I buy it?
If this book were on sale, I'd have bought it already -- at $2.99,
it's a definitely maybe (leaning toward the positive)
. Maybe when I free up some space on my TBR pile, I'll take a look at this novella again. ^_^