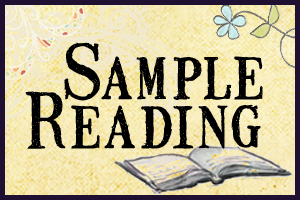 This is a new feature on my blog called
Sample Reading
. This is where I will talk about book samples that I've gotten online. I'll read the sample and will answer the very important question:
Will I buy it?
This week, I've downloaded a sample of Rose Gordon's
Her Sudden Groom
, which is the first book in her Groom Series. This title intrigued me because it's currently ranked #7 (based on popularity) on the Kindle list for Historical Romances. (#6 is
An Introduction to Pleasure by Jess Michaels
, which I loved.)
The Blurb:
The overly scientific, always respectable, and socially awkward Alexander Banks has just been informed his name resides on a betrothal agreement right above the name of the worst chit in all of England. With a loophole that allows him to marry another without consequence before the thirtieth anniversary of his birth, he has only four weeks to find another woman and make her his wife. Being the logical scientist he is, Alex decides to take his friend's advice and treat his quest for a bride just like a science experiment...

Caroline Sinclair is still trying to scrape her jaw off the floor after hearing her cousin, Lady Olivia's, latest announcement when the object of their conversation, Alex Banks, Olivia's intended, arrives for what Caroline assumes is a bout of drawing room chitchat with his betrothed. But when an experiment is mentioned, Caroline, who cannot resist a science experiment any more than she can deny her lungs air, volunteers to help before she even knows what his latest experiment is!
- from Rose Gordon's website
I got the sample from:
Amazon, Kindle
# of Pages:
Almost 4 chapters of a 26-chapter book
My Impressions:
One other reason why I decided to read this sample was to meet Alex Banks, well-known for his geekiness and interest in science. Alex finds himself in a lose-lose situation: he either marries Olivia Sinclair, one of the most horrible women alive or he leg-shackles himself to someone else before he turns 30 -- which is a month away.
Alex and his father both agree that any other woman would be better than Olivia and so Alex seeks out Marcus Sinclair, Olivia's brother, in order to ask him if he would honor the terms of the addendum.
Then we meet Olivia and her cousin Caroline -- Olivia is, as Alex suspected, shrewish, whiny, spoiled, rude, etc. etc. -- and Caroline is presented as the
nicer
of the two.
This is the part that worries me: Olivia is already presented as a flat character and no explanation is given regarding her behavior. If a love triangle is being set-up, Olivia isn't even given a fighting chance! As early as Chapter 2, it is clear that Caroline will be the one Alex ends up with. Even Marcus, Olivia's brother, has deliberately put her in Alex's path. But, in the sample, I actually don't see Caroline as being an attractive prospect. The author does not provide us with a reason to like her -- she has only (so far) provided the readers with a reason to dislike Olivia.
The two are clueless to Marcus's attempt to match them -- on one hand, it is delightful to see two people so interested in science be so dense about other matters but, it also got a bit frustrating.
Marcus limped across the room and stopped, turned his head, and winked at Alex. "I'm not worried about leaving her alone with you. I know you won't do anything with my cousin you wouldn't do with your own."

Care to place a wager on that? Currently the thoughts he was entertaining of him alone with Miss Sinclair were not very cousinly. "Right," Alex said hoarsely, trying to push inappropriate thoughts of Miss Sinclair from his mind. "We'll only speak about science, nothing else."

Marcus gave him a curious look, then shook his head and departed.

Alex had no idea what Marcus was about, nor did he care to know. He'd just been granted a reprieve from being forced to marry Lady Olivia. If her brother wanted him to entertain the beautiful Miss Sinclair with talk of science in return, he wasn't going to argue.
- loc 402 - 419
Alex's attraction to Caroline actually surprised me. When they were introduced, he seemed indifferent to her and actually forgot that they had met before.
I
am
curious about how Alex will convince Caroline to marry him -- and what Caroline's reason would be to accept the proposal but I don't know how the characters will sustain my attention for 26 chapters.
Price:
$0.99 for US, $2.99 for International on Amazon
Will I buy it?
Pass on this.