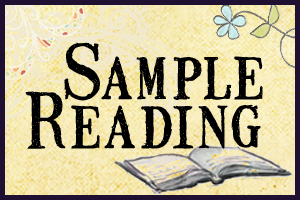 This is a new feature on my blog called
Sample Reading
. This is where I will talk about book samples that I've gotten online. I'll read the sample and will answer the very important question:
Will I buy it?
The Blurb:
The wealthy Duke of Weybridge knows that everyone loves a good surprise…and a good scandal. He has bounteous amounts of both for the guests—particularly for his nieces and nephew, Emily, Isabel, and Lucien—at his extravagant seventieth birthday ball. They think his promise to improve their lives means a generous stipend. But he's gotdifferent gifts in mind: finding them the perfect matches. His task won't be easy, because the Arden siblings have given up on love.

Bachelor Lucien spends more time merrymaking than looking for a proper wife. His sister Emily, broken-hearted when her betrothal ended in disgrace, committed herself to an early spinsterhood. And Isabel's marriage has been troubled from the moment it began—with a terrible betrayal on her wedding night.

Though witty and strong-willed, the siblings are no match for their uncle's wily machinations. And as the celebration approaches, his romantic scheming ignites illicit liaisons and irresistible temptations, sparking enough rumors to keep the ton abuzz until his next birthday.
- from the Amazon product page

I got the sample from:
Amazon, Kindle
# of Pages:
Chapter 1 and part of Chapter 2 of a 17-chapter book
My Impressions:
I've actually read all three of Leigh Michaels' historical romances (
The Mistress House
,
Just One Season in London
and
The Wedding Affair
).
Leigh Michaels was an interesting debut historical romance author because she had already written and published a number of contemporary romances before making the switch. I still feel her debut,
The Mistress House
is her best historical romance to date.
Michaels utilizes multiple perspectives and storylines in all her historical romance novels. The Birthday Scandal does so as well. The Ardens, Lucien, Emily and Isabel haven't been very lucky at love. Isabel is estranged from her husband. Emily has entered into "early spinsterhood" and Lucien isn't interested in forming any lasting connections.
Their uncle, the Duke of Weybridge wants to see his three favorite relations settled before he dies. So he concocts a bold scheme on his 70th birthday.
He's also invited his heir, a distant relation from America, Gavin Waring, the Marquess of Athstone.
The first chapter introduces us to the three siblings and the Marquess and their present circumstances. They are all getting ready to travel to Weybridge Castle to celebrate their uncle's birthday.
From the blurb, we know that the uncle has a plan to get his nephews and nieces settled happily and we get a sense of who will get match with whom.
The greatest danger of using multiple perspectives in telling a story (and I mentioned this in my review of her book,
The Wedding Affair
) is that character development is bound to suffer. And this worries me about this book because it is only 17-chapters long.
But Leigh Michaels has shown in her previous historical romances that she can effectively tell a good story and she does use the multiple POVS to show different aspects of the theme.
But my wish for Leigh Michaels remains the same, I would like to see her write a story focusing on just one hero and heroine. I'd love to see her develop the depth as well as the breadth of the story.
Price:
$7.16 for print and $8.80 for Kindle (international)
Will I buy it?
Pass for now.