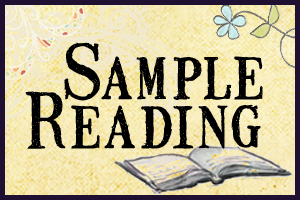 This is a new feature on my blog called
Sample Reading
. This is where I will talk about book samples that I've gotten online. I'll read the sample and will answer the very important question:
Will I buy it?
I had actually planned on reading Sophie Barnes' debut novel when it was released in January and had pre-ordered it from Book Depository -- at the time of release, however, (I'm not really sure what happened) but Book Depository sent me an email informing me that my order had been cancelled because they were unable to "fulfill the order". (I still have the email dated March 9, 2012.)
I had forgotten to re-order the book and was only reminded that I had missed this debut when
Reading Romances
featured it in this week's book deals.
How Miss Rutherford Got Her Groove Back
is currently $0.99 on Amazon so I decided to download the sample to check it out.
The Blurb:
Emily Rutherford is having a very bad day. Of course, having the man you've loved forever, announce his engagement to your (now very former) best friend will do that.

Emily is sure nothing good could possibly come out of this horrid situation. But she lets her sisters and Adrian's cousin, Francis Riley, the delectable but brooding Earl of Dunhurst, convince her a season in London will be just the thing.

Now Emily has a choice: sulk in a corner while her sisters enjoy the glitter of the ton. Or become the belle of the ball, dazzling everyone on an earl's arm. But as Francis helps Emily get back on her feet, she quickly realizes that a childhood crush is nothing compared to the power of true love.
- from Sophie Barnes' website

I got the sample from:
Amazon, Kindle
# of Pages:
Prologue and Chapter 1 and part of Chapter 2 of a 373-page book
My Impressions:
The opening and the situation the Rutherfords find themselves in reminds me
too much
of the Dashwoods' situation in
Sense and Sensibility
. The Rutherford girls have fallen on hard times after their parents' death and their only solution is to marry well.
This is easier said than done for the Rutherford girls have neither the connections nor the means to move about in society.
Fortunately, Emily has had a lifelong friendship and attachment to Adrian, the younger son of Viscount Carroway and she expects a proposal from him.
The sample ends before the ball begins but we are introduced to Francis, Adrian's cousin (someone the Rutherfords have known for a while but are not as fond of as they are of Adrian) and Kate, Emily's best friend -- and we are told by the town's gossip of Adrian's imminent proposal, leaving the Rutherford girls excited.
The sample has a very predictable trajectory (and it's already mentioned in the blurb) -- we know that Emily will be disappointed and surprised by Adrian's choice of wife. We know that Emily and her sisters will accept Francis' generous offer to bring them to London (to escape the awkward situation Emily now finds herself in: everyone knows about her and Adrian) -- and we know that Emily will eventually end up with Francis.
My question is, how? --
Price:
$0.99 on Kindle (for a limited time, accurate as of time of posting), $7.99 for print
Will I buy it?
When a book references another story, comparisons are inevitable -- in this case, this story references two other stories:
How Stella Got Her Groove Back
by Terry McMillan and Elinor's circumstances in
Sense and Sensibility
.
My hope is that the author will offer her own fresh spin to these two stories -- and I'm curious how she will do so.
Also, there's Francis Riley, who's dark and brooding and I'm a sucker for the dark, brooding, serious ones.
So, yes, at $0.99, I'm willing to give this book a try.